What's Worse than a Lump of Coal in a Christmas Stocking?
No Lump . . . and No Stocking?


Yes, it's true, there are tens of thousands of kids who won't be celebrating Christmas. And certainly 100s in Pompano Beach, Oakland Park, and Fort Lauderdale!
Hi, I'm Debbie Wysocki, a wife, mom, Girl Scout Leader, community volunteer, business owner, and room mom . . . but I'm also a woman who can see a need and passionately pursue WIN-WIN solutions.
It was 25 years ago when I lived in Altadena, California and was a Beverly Hills financial analyst that I saw a news clip about families with kids in need who wouldn't be celebrating Christmas.   They announced a 'Secret Santa' Program that people could make a difference in the lives of families and be 'hands on.'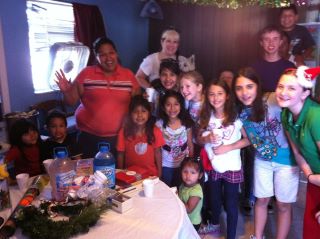 While everyone has a different way of celebrating the Holidays, I believe children should be remembered and 25 years ago, I worked through the Pasadena Chamber of Commerce and delivered Secret Santa gifts on Christmas Eve to my first family, and I was hooked!
Meeting this amazing single mom and her three wonderful kids who lived in a two bedroom apartment on the 'wrong side of the tracks' and worked 3 jobs, who had bartered her kids into Christian schools was a turning point for me in how I celebrated Christmas.  She had been a runway model and had been in an automobile accident that left her with a limp and a few slight scars on her face.  Her husband left her because she was no longer arm candy.  The few hundred dollars I spent was so small compared to the HUGE JOY I saw in the eyes of the kids and the thankfulness I saw in the mom's eyes.
The feeling I walked away with was humbling, peaceful, and a burning desire to make a difference EVERY year!  And so the annual tradition began.
A few years later, with husband in tow, we landed in Fort Lauderdale and Christmas was fast approaching . . . and there was no Secret Santa Program in sight.  So I created my own!
I tracked down Deputy Victor Villalobos, a school resource officer (up until last year) who was in charge of community outreach at the time and have worked with him for the past 16 years and local Pompano Beach Elementary Schools to identify kids in need of a little Santa Magic and sharing the gifts God has so richly blessed us with.
Over the years, we have helped many families – and well over 200 kids–Thanks to many girlfriends' cleaning out their kids' closets, generous neighbors, my children, and our Girl Scout Troop.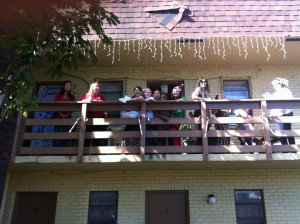 It's my belief that for at least one day a year we have made them smile and taken a little bit of stress out of their lives and their parents.
However, one person can only do so much . . . and I began to look for ways to help more kids and the Annual Wysocki Toy/Clothing Drive Christmas Potluck was born.  By sharing my passion we went from helping 10 kids to 20.
In December 2010 I asked my Girl Scout Troop www.HisGirlScoutsRock.org if they wanted to be part helping families and it was a unanimous yes!
With the combination of the Annual Wysocki Toy/Clothing Drive Christmas Potluck headed up by my son Trent, and the help of my Girl Scout Troop, we wrapped individual gifts for each child, and delivered over 120 presents to 31 children ranging in ages from just a few months to 17 years old.  Last year (December 2011), we delivered gifts to more than 60 children–each personalized and wrapped.  We had the pleasure of praying with each family and leaving with them a Bible that was a gift from Calvary Chapel For Lauderdale.
This year with your help, we can significantly impact 2 families.
Below are the two families our Girl Scout Troop was able to bless for Thanksgiving. We were  able to provide them with Thanksgiving boxes complete with homemade baked bread compliments of our Girl Scouts who lovingly hand packed and decorated the boxes for these 2 very special families.
Family one is a single mom with 5 little ones — all adorable — our second family is a mom with 3 daughters 2 are in high school; her third daughter has one semester left of college but is on a break.  This older daughter  had to have a hip replacement the day before Thanksgiving due to the lupus drugs she was taking.
We want to serve show these families LOVE again at Christmas with Gift Cards to Walmart, Target, Publix & Winn Dixie . . . every gift counts, so we are thanking you in advance for your donations.
Are you IN?  I hope so.   I can promise you there is nothing like this – knowing that you helped change a child's life (if only for one day), is a very good feeling indeed.
There are a couple of ways to get involved:
Join us for our annual Holiday Open House —  which is Saturday, December 12 from 7 – 10 pm.    If you are in the Fort Lauderdale/ Pompano Beach Area this is a fun family, friends, and networking event – (YES, I know it's on the Fort Lauderdale Boat Parade night).
Please see the Tab that says Holiday Party for more details.

Donate New or gently gently used clothing – for our two families:
Azariah – girl age 7 – size 8                       Enaisha – girl age 5 – size 6
              Dakari – boy age 4 — size 5T                     Jakari – boy age 3 – size 5T
              Naleah – girl age 2 size 3T                        Alexandria – girl age 14 – size 5
              Tyler – girl age 16 – size 3                         Older daughter who had surgery size 1

 Donate gift cards to Target, Walmart, Publix, Winn Dixie, Kmart, etc.




 Donate a Bible. Not only do we want to give tangible useful gifts, we want to deliver the gift of hope to the families we serve. God's Son is most important gift we have to share.




 Donate cash so we can bridge the gaps. While we have not yet been approved as a 501c3 organization, we are in the application process.




Pray for our Girl Scouts, our Family and children we reach out to that lives will be changed!
SPREADING JOY OVER THE YEARS